Sector: Public
Main Contractor: Theatre Things Ltd
Client: Leeds City Council
Services
• Survey of the plaster in the auditorium ceilings and balcony fronts
• Detailed report on condition and budget rates for repairs
• Subsequent completion of all repairs required
• Issue of Ceiling Safety Certificate
The grade II listed Leeds Grand Theatre and Opera House was built in 1878 on a ¾ acre site on New Briggate, one of the city's main streets, at a cost of £62,000 (equivalent to about £8 million today). The architects, George Corson and James Robert Watson, were strongly influenced by continental ideas – hence the distinctive gothic ecclesiastical spires of the exterior and the fan vaulting and clustered columns of the interior. The Leeds Grand is regarded as a prime example of Victorian theatre building.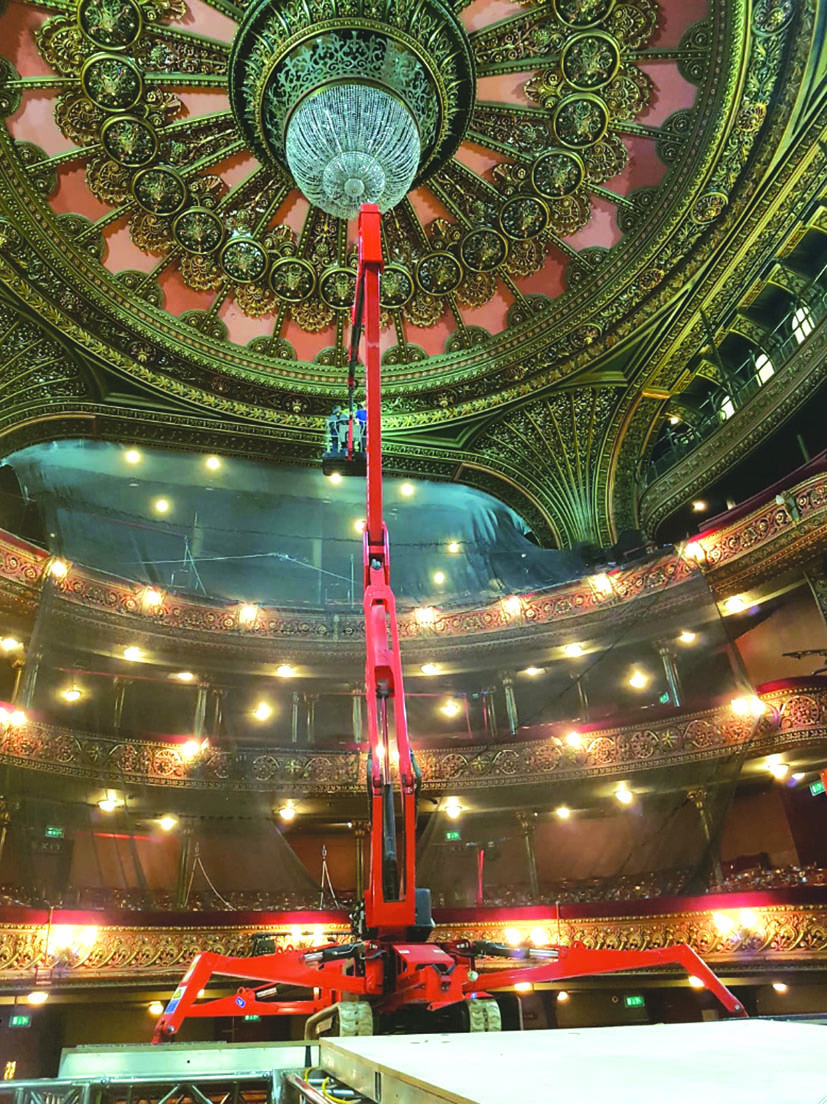 The theatre seats 1550, more than twice the capacity of London's Apollo Theatre, where on 19th December 2013, approximately ten square yards of plaster fell onto the stalls 45 minutes into a performance, injuring 76 of the audience. More than 700 people were in the theatre at the time. Witnesses described the panic that spread as the ceiling began to crumble, masonry and plaster fell onto the stalls and the theatre filled with clouds of thick dust. An investigation conducted by Westminster City Council showed the cause to have been the deterioration over many decades of wadding ties which supported the ceiling, dating from around 1900. The ties, made of hessian and plaster of Paris, were used to lash timber frames together to support the suspended ceiling.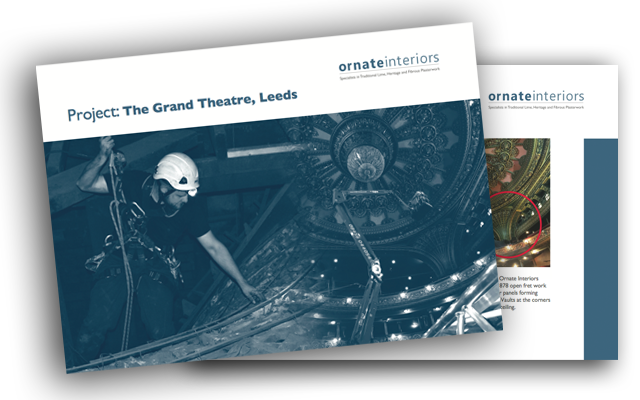 This incident caused widespread concern among owners of historic buildings and prompted The Association of British Theatre Technicians to issue guidance notes which, if complied with, will ensure public safety through improved facility management, greater vigilance by theatre staff and regular inspections by structural experts. In buildings with the capacity of The Leeds Grand Theatre there could be major tragedies if ceilings were to collapse completely.
Ornate Interiors have worked on hundreds of the nation's prized historic buildings, including theatres such as Hammersmith Apollo, Stockport Plaza and Wolverhampton's Grand Theatre.
Ronnie Clifford, founder and managing director of Ornate Interiors, explains the various issues encountered in such projects, assisted by his brother Iain:
"Over many decades the hessian inside the wadding will deteriorate while the plaster around it remains strong, creating what we call an empty egg shell. This is often not evident in a visual inspection and more intrusive investigations are necessary. When we re-wad ceilings as part of the restoration process we wrap tying wire around the fixing frame and through the lathed ribs. We then wad with plaster and hessian around the wire. If at any time the wad fails the tying wire would remain in place, ensuring a firm fix.
"Wad-deterioration can also be caused when theatre crew or other trades workers walk across the fixing frame, standing on top of the wads and weakening them. Unsympathetic repairs can also be a contributory cause.
View and download this case study in PDF format…
ORNATE-CASE-STUDY-Leeds-Grand-Theatre.pdf
View a collection of interesting images in this project lookbook…
ORNATE-LOOKBOOK-LEEDS-GRAND-THEATRE.pdf